Travel
The ultimate road trip across the USA according to Science
Exploring the beauty of your country is a fantastic journey, and what better way to embark on it than through a road trip? Many of us have fantasized about traversing our own nation, yet planning the perfect road trip often seems like an insurmountable task. It's easy to lose track of exciting points of interest or end up on mundane routes.
Fortunately, if you call the United States home, there's an extraordinary American road trip plan crafted by Discovery News and Randy Olson, a dedicated scholar pursuing a Sc.D. at Michigan State University. They've employed a remarkably advanced algorithm to design a roadmap of the U.S., precisely guiding you to all the vital landmarks in each of the 48 contiguous states. This meticulously crafted map highlights 50 major national landmarks, national historic sites, national parks, and national monuments for you to explore on your remarkable road journey.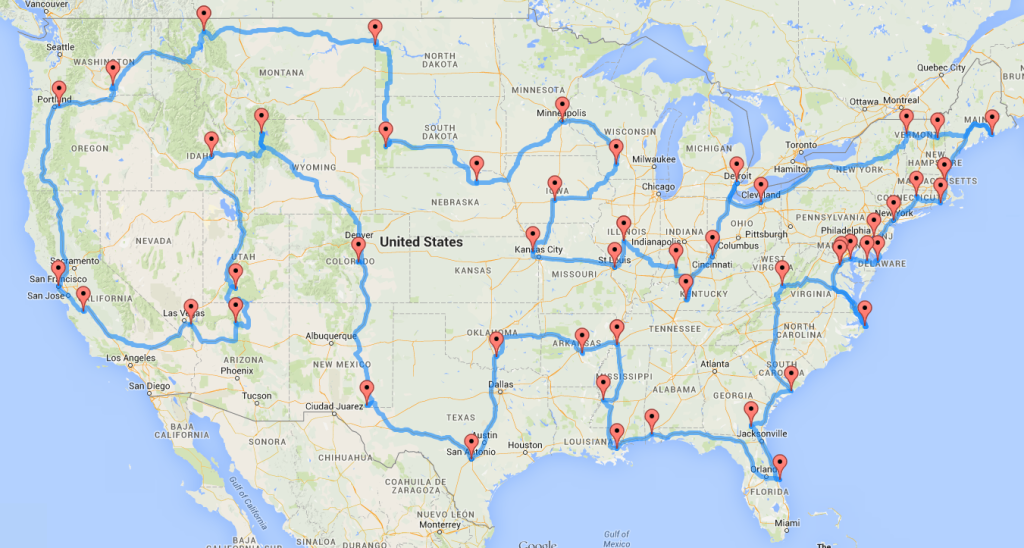 Ready to roll with your buddies on this epic journey? Here's the scoop:
If you're seriously considering kicking off this adventure, here's the math. You'll be covering around 13,699 miles, which translates to roughly 224 hours of driving. Now, picture this – if you're up for a non-stop extravaganza, it's gonna take you about 9.33 days straight. But, keep it real, Olson, the mastermind, figures that in the real world, you're looking at a more doable 2 to 3 months to savor every moment of this road trip.
Here's the Google Maps of the route: [1] [2] [3] [4] [5] [6]
(Note: Google Maps only supports routing with up to 10 waypoints at a time, which is why there are multiple Maps links.)
Grand Canyon, AZ
Bryce Canyon National Park, UT
Craters of the Moon National Monument, ID
Pikes Peak, CO
Carlsbad Caverns National Park, NM
The Alamo, TX
The Platt Historic District, OK
Toltec Mounds, AR
Elvis Presley's Graceland, TN
Vicksburg National Military Park, MS
French Quarter, New Orleans, LA
USS Alabama, AL
Cape Canaveral Air Force Station, FL
Okefenokee Swamp Park, GA
Fort Sumter National Monument, SC
Lost World Caverns, WV
Wright Brothers National Memorial Visitor Center, NC
Mount Vernon, VA
White House, Washington, DC
Colonial Annapolis Historic District, MD
New Castle Historic District, Delaware
Cape May Historic District, NJ
Liberty Bell, PA
Statue of Liberty, NY
The Mark Twain House & Museum, CT
The Breakers, RI
USS Constitution, MA
Acadia National Park, ME
Mount Washington Hotel, NH
Shelburne Farms, VT
Fox Theater, Detroit, MI
Spring Grove Cemetery, OH
Mammoth Cave National Park, KY
West Baden Springs Hotel, IN
Abraham Lincoln's Home, IL
Gateway Arch, MO
C. W. Parker Carousel Museum, KS
Terrace Hill Governor's Mansion, IA
Taliesin, WI
Fort Snelling, MN
Ashfall Fossil Bed, NE
Mount Rushmore, SD
Fort Union Trading Post, ND
Hanford Site, WA
Columbia River Highway, OR
San Francisco Cable Cars, CA
San Andreas Fault, CA
Hoover Dam, NV