Travel
Directions to Yellowstone National Park
This post discusses everything about Yellowstone National Park in this blog post. Located primarily in Wyoming, Wyoming Yellowstone National Park extends into Montana and Idaho, making it one of the world's protected natural sites. A UNESCO World Heritage Site and International Biosphere Reserve, Yellowstone was the first US national park opened in 1872. It is a World Heritage Site due to its unmatched natural beauty, striking geological features, diversified ecosystems, and abundant fauna.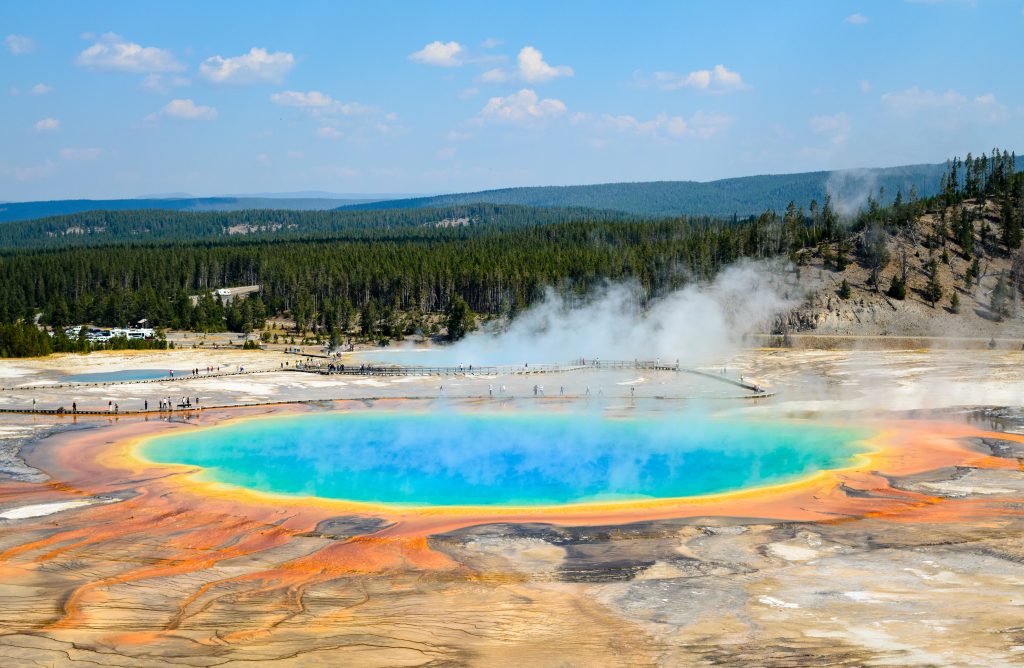 Choosing Your Starting Point
Different starting points depending on your location.
There are several ways to enter Yellowstone National Park, each with advantages and disadvantages. The trip and the sights you see depend heavily on your chosen door. The four significant entrances are described below.
Yellowstone National Park, Montana, West Entrance:
The target audience is people from western states like Idaho and Washington and tourists interested in the park's famous geysers.
West Yellowstone, Montana, and Bozeman, Montana, are close by.
Must-sees include the Upper and Lower Geyser Basins, Old Faithful, and the Grand Prismatic Spring.
The picturesque routes to the park take you through some of Montana's most beautiful natural settings.
Gardiner, Montana's North Gate:
It is best for Montana visitors and anybody who wants to see the park's northern regions.
Gardiner, Bozeman, and Livingston, all in Montana, are nearby.
Features include Roosevelt Arch, Lamar Valley (famous for animal watching), and the Mammoth Hot Springs.
Entry from the East (Cody, Wyoming):
This route is perfect for tourists from the eastern states or anybody looking for a scenic drive through the mountains.
Cody, Wyoming, and Billings, Montana, are two nearby urban centers.
High points include Hayden Valley, Yellowstone Lake, Fishing Bridge, and Sylvan Pass.
Crossing the rocky Absaroka Mountains while taking in the breathtaking scenery is a highlight of the scenic routes.
Major cities or landmarks near each entrance (e.g., Bozeman, Cody, Jackson).
Yellowstone National Park, Montana, West Entrance:
West Yellowstone, Montana, is a major city.
West Yellowstone is a picturesque village and a common entry point to the park. It has a variety of places to stay, eat, and use the many tourist services.
Hebgen Lake is a beautiful reservoir close to the park's entrance, famous for fishing, boating, and camping.
Earthquake Lake is a fascinating geological wonder formed following a significant earthquake in 1959.
Gardiner, Montana's North Gate:
Gardiner, Montana, a Major City
It is a historic hamlet that serves as the park's official entry and has lodging, dining, and access to its namesake, Roosevelt Arch.
Near the North Gate are the Mammoth Hot Springs, whose mineral-rich hot waters have eroded into breathtaking terraces.
Lamar Valley is well-known for its wide variety of fauna.
Entry from the East (Cody, Wyoming):
Cody, Wyoming, is a major city.
Cody is a popular tourist destination in Wyoming, and its Buffalo Bill Center of the West museum complex is a must-see for anybody interested in Western art, history, or culture.
Buffalo Bill is a landmark structure providing breathtaking reservoir vistas and the surrounding area.
Sylvan Pass is a beautiful mountain pass that leads to the park's eastern regions.
Jackson, Wyoming's South Gate:
Jackson, Wyoming, is a major city.
It is a lively town recognized for its Western-style architecture, art galleries, and outdoor activities; the beautiful Grand Teton mountain range flanks it.
Near Yellowstone, Grand Teton National Park has rugged mountains, tranquil lakes, and abundant animals.
Lewis Falls is a stunning waterfall not far from the park's southern entrance and makes for an excellent first stop on any region tour.
Directions to Each Entrance
Nearly 3,500 square miles of Yellowstone National Park are located in northwestern Wyoming. During the colder months, most of Yellowstone's five entrances are closed to standard vehicles. It's a long drive between the two entry points, so double-check the road conditions you plan to use before you go. GPS coordinates are provided for various locations within the park for users' convenience.
Airports
Airports in Cody and Jackson, Wyoming; Bozeman and Billings, Montana; and Idaho Falls, Idaho, are served year-round by commercial airlines and are close to Yellowstone National Park. The West Yellowstone, Montana airport is served by flights from Salt Lake City in May and October.
Depot for buses
Buses run year-round between Bozeman and West Yellowstone along Highway 191. A direct bus runs from Idaho to West Yellowstone only during summer. Commercial service between Bozeman and Gardiner, Montana, occurs in winter and summer. Summer is the only time to get to the retail vehicle park from Cody and Jackson, Wyoming. Please get in touch with nearby cities for information on individual carriers and schedules.
Railway terminals
Yellowstone National Park is not accessible by train. Southeastern Idaho, Salt Lake City, Utah, and northern Montana are the closest places to find stations.
Navigating Inside the Park
Yellowstone National Park's varied landscapes, famous geothermal features, and abundant animals can be found thanks to the park's well-organized road network. The Grand Loop Road forms a figure eight around the park and is the main route for visitors. Here's a quick rundown of the area's main thoroughfares and sights to see along the way:
Grand Loop Road:
The Grand Loop Road can be explored in two distinct sections: the Upper Loop and the Lower Loop.
The Grand Canyon of Yellowstone, Mammoth Hot Springs, and Norris Geyser Basin are all found in Yellowstone's Upper Loop.
Old Faithful, Midway Geyser Basin, and West Thumb Geyser Basin are popular attractions on the lower loop.
Huge Hot Springs:
The terraced mineral formations formed by the hot springs have made the area famous.
Routes and boards provide information for a more immersive experience.
Old Faithful and Upper Geyser Basin:
Several geysers and hot springs, including the famous Old Faithful geyser.
Crowds gather to witness Old Faithful's regular outbursts.
Midway Geyser Basin:
The colorful Grand Prismatic is famous among the most critical hot springs in the world.
Its bright colors are the result of different heat-tolerant bacteria.
Norris Geyser Basin:
Steamboat Geyser, the world's most active geyser, is just one example of the region's dynamic geothermal activity.
Grand Canyon of Yellowstone:
The Upper and Lower Falls of the Yellowstone River are a must-see.
The canyon has several vantage points and hiking trails for breathtaking views.
Lamar Valley:
Known for bison, wolves, elk, and many other animals.
There is an opportunity to see wildlife in their native environments and large open vistas.
Fall Tower and Roosevelt Junction:
Trekkers can enjoy the scenic beauty of Tower Falls in a very short time.
The north entrance is accessible via the historically significant Roosevelt Junction.
Canyon Village:
An integrated area where visitors can find accommodation, facilities, and food.
There is easy access to Yellowstone's Grand Canyon.
Important Travel Tips
Map and GPS
Visitors to Yellowstone National Park are recommended to have a good map and GPS device. Here's how to get the most out of them:
Official Park Map:
Pick up a Yellowstone National Park map at a visitor center or print one before you go. These comprehensive maps map the park's roads, views, trails, and facilities in great detail.
Essential landmarks, road closures, camping spots, and safety guidelines will all be included on the map.
GPS Navigation:
Use a global positioning system (GPS) navigator or a smartphone navigation app to find your way around the park. Although navigation programs such as Google Maps and Apple Maps can be helpful, they may not cover the outer reaches of the park.
Points of interest:
Search for specific destinations using the search function found in most GPS devices and navigation apps. Easily find tourist hotspots, information centers, campsites and more.
Use the park's signs to find your way to popular destinations like Old Faithful and Mammoth Hot Springs.
Security and real-time updates:
Use GPS to get real-time information about road closures, traffic, and safety alerts. You can make necessary adjustments to your route based on the real-time data these technologies provide.
Due to the rapidity with which Yellowstone's weather can change, access to up-to-date information is essential.
Offline maps and backups:
It's wise to have a paper map or an offline map app handy if you have GPS or navigation software problems.
Local Knowledge and Park Rangers:
Even if you have a GPS and a map, don't hesitate to ask the park rangers for directions, especially if you want to go off the beaten track.
Fuel and Supplies
When visiting Yellowstone National Park, it is essential to be prepared with adequate fuel and necessary supplies to ensure a smooth and enjoyable experience. The park's large size, remote locations, and limited services make self-sufficiency essential. Here are some tips for managing fuel and supplies during your trip:
Fuel:
Please fill up your tank before entering the park: Fuel can be expensive, and it is difficult to enter the park. Before reaching Yellowstone National Park, fill up your fuel tank.
Keep an eye on the fuel gauge as you drive around the park to ensure you don't run out of gas. Running out of fuel in a rural area can be a significant inconvenience and possibly a safety concern.
There are gas stations at Mammoth Hot Springs, Tower Junction, Canyon Village, Grant Village, and Fishing Bridge. Find them by consulting the park map.
Supplies:
Pack a survival bag with a first aid kit, water, non-perishable food, sunscreen, and prescription medications.
Although there are places to eat inside the park, it's still a good idea to bring snacks and drinks, especially for longer excursions or visiting sites without food service.
Always carry a refillable water bottle with you so you don't get dehydrated. Water fountains can be seen at many tourist destinations and landmarks.
Bear-resistant containers: If you plan hiking or camping, you may need bear-resistant containers for storing food and incense. These are available for rent at various locations in the park.
Tents, sleeping bags, and cooking gear are essential for a successful camping trip. There are usually few for sale at the campground.
Carry binoculars and a camera to record your experience of the park's sights and fauna. To better observe the animals, binoculars help.
Both cash and credit/debit cards are helpful, although some establishments do not accept the latter for small transactions.
Plan Ahead:
Research the facilities available at different park parts to ensure you have what you need.
Be aware of park regulations and guidelines, such as restrictions on picking plants or approaching wildlife.
Parking and Traffic
When planning a trip to Yellowstone National Park, parking and traffic management are two of the most critical factors. Due to the park's high visitor numbers, congested parking options and delays are possible. How to park efficiently and avoid traffic jams:
Arrive early: If you want to find parking and avoid the crowds, arrive the day before. The best time to see wildlife is usually in the morning.
Use shuttle services: These services are available in some areas of the park, such as the Upper Geyser Basin, and can significantly reduce traffic.
Before starting the trip, check the park's official website for up-to-the-minute information on road conditions, including warnings and closures.
Bring food and drinks if you are stuck in traffic and have to wait awhile.
Be aware of pedestrians and reduce your speed to the posted limit.
Conclusion
Finally, a trip to Yellowstone National Park will take you through some of the world's most breathtaking scenery and natural wonders.
You can make your journey unique by choosing the appropriate approach depending on your departure point. From geothermal wonders to picturesque canyons and abundant animal habitats, each park's four main directions offer visitors its unique collection of sights and experiences.
The Grand Loop Road connects significant attractions around the park, including Mammoth Hot Springs, Old Faithful, Grand Canyon of Yellowstone, and more. However, with the help of a reliable GPS and an official park map, you can navigate unfamiliar territory, see attractions, and get information on road conditions.
Rest and refuel before heading to the park, ensuring you have all the necessities, including food, drink, and safety gear.