Fashion
Teenager Makes Her Own Graduation Dress And It'll Blow You Away
What did you wear to your graduation? Was it a dress you saved for with your after school and weekend jobs for months on end? Or was it a really expensive designer dress? Perhaps it was something custom made just for you? Do you even remember? Was it really special or just something you had to wear because the occasion called for a fancy dress?
Well what if we told you that making your own graduation dress is an option and it can outshine even the fanciest dresses you can get at the store. That's what happened to Ciara Gan.
Ciara was a 17 year old teenager who was mostly done with school work and still had a month before her graduation. That's when she got the idea that she could make her own dress. At first she hired a designer to design a dress, but when it came back to her she really wasn't pleased with the result. That's when she thought "I have the time, I can do all of it myself". So she spent a month designing the dress, picking the fabric, sewing the dress together and then decorating it by hand.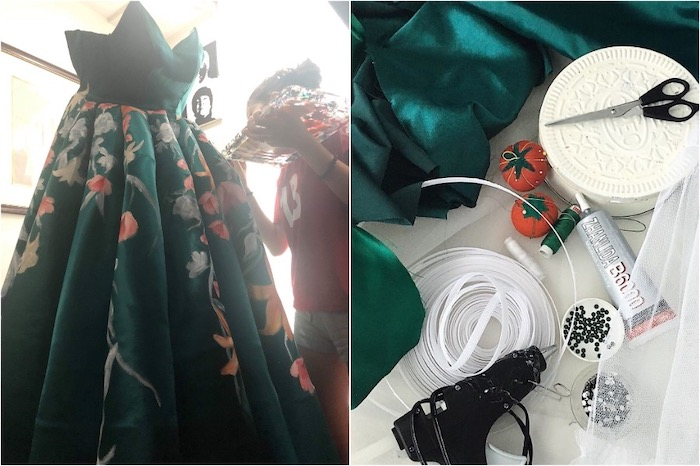 It took 13 yard of fabric, she did the boning of the dress herself, and then once she sewed it together she handpainted the flowers onto her dress. It took her five full days to do the flowers. And Ciara didn't want to go for standart floral pattern or classic roses, instead she chose to draw Tiger Lillies because that felt more relatable to her and she loved the contrast of orange flowers on her green dress. On top of that she decorated the dress with swarovski crystals. Of and do you know why she went for a green dress? Because she's a big Harry Potter fan and a proud Slytherin.
The result is absolutely stunning. Her classmates couldn't believe she actually made it herself from start to finish, from the idea to a finished wearable dress. Ciara looked truly gorgeous in her dress and she definitely stood out from the rest of the kids. Her dress was unique, one of a kind and made with love and passion, reflecting her interests, talents and capabilities.
The pictures of the dress went viral and so did her story of making it. She even posted a video on Youtube all about how she made that special dress for her graduation. Ciara is actually an inspiring artist and the attention her dress project was getting even brought her a few requests for commissioned artworks, which obviously made her very happy. It's nice when your art is being truly appreciated. If anything, this story proves that if you put your mind to it and put a lot of passion and hard work into your project — the result will be worth it. Hard work always pays off.