Fashion
8 Spring Fashion Trends For 2022
Fashion in 2022 is not like any fashion we've seen before, there are no strict rules, no clothing item is a must-have. It's all about having a choice in what looks good and makes you feel good. Social and environmental changes that we've seen in the past decade have influenced the fashion world and how we view it. We're all more conscious about ethical approaches, fair trade, working conditions, animal rights, what fabrics are good for the environment. We all have a slightly more minimalist approach to our wardrobe choosing staples that will last us years instead of completely revamping our wardrobe each season. So fashion has become less about what's in and what's out and more about suggesting ideas and trends for us to try out, while giving us a plethora of choice when it comes to styles, colors, patterns, etc. So here are some spring trends for 2022 for you to get inspired. 
1.Tropical Vibes
One of the big trends this spring and we're sure it'll carry into the summer is tropical print. Bright, happy and refreshing it's been present on the runways of fashion elite like Dolce&Gabbana, Valentino, Versace and others. It's not a coincidence either, the designers are trying to bring more attention to climate change with their new fashion lines, and we're sure it's working, you look at palm leaves and you want to keep the planet looking green, don't you?
2.Suits, Suits, Suits
Suits are still as popular as ever, but now instead of the classic two-piece, it seems like the trends are moving towards three-piece suits or jackets and Bermuda shorts. So whether you're a fashionista or you're just required to wear a suit at work – this is your chance to stand out and be bold in your suit choices.
3.Wallpaper Prints
The 60s and 70s wallpaper prints and couch patterns are back in full swing but this time you can wear them. And if you take a look at the latest collections by Marc Jacobs, Fendi, Paco Rabanne and Prada you'll see that the idea is to wear it in ensembles and double down on the print instead of just picking one accent piece. Just dive into the kooky prints headfirst and submerge yourself in it, go as far as to have loud accessories and handbags with the same print.
4.Bringing Sexy Back
Micro tops and bras as tops are totally in this spring. Embrace your curves and wear those deep V-necks, dressed with cutouts, corsets and anything that accentuates your inner sexiness. Lingerie is something you can totally wear out on the street, probably not to the office, but you know, out and about. And this time the designers have made it sensual and sexy but not vulgar. Burberry, Mugler, Givenchy, Tom Ford and other legendary fashion brands have all created some exquisite pieces that make this trend look hot as hell. We love it!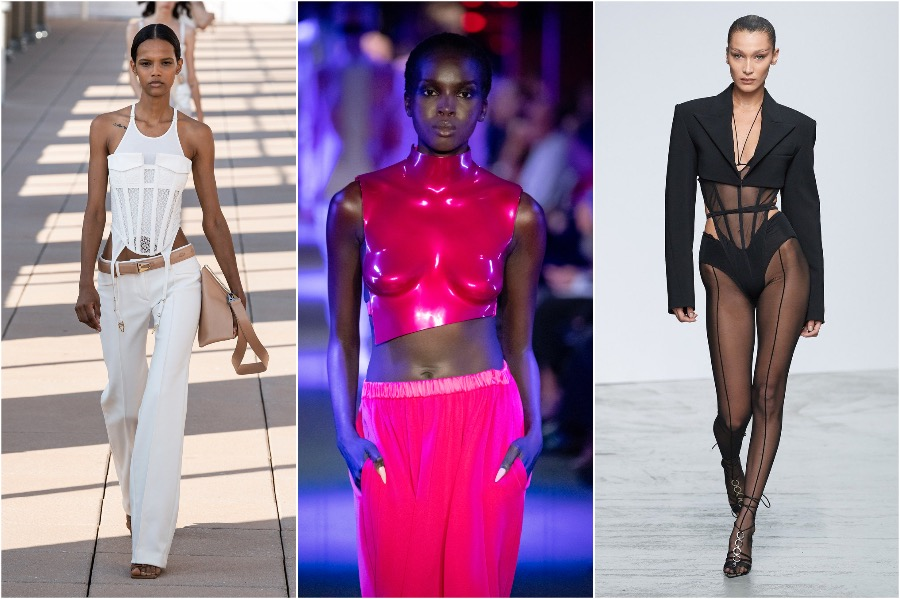 5. Denim But Make It Vintage
Vintage denim is sturdy, it can last ages and then be remade into something new and designers like Alexander Wang, Bottega Veneta, Chanel, Celine and many others have clearly taken that into consideration. There were a lot of vintage-inspired denim pieces on the runways that are either made from scraps of denim and look totally unique. There were also quite a few denim ensembles that just look super vintage and something you could possibly thrift, we love a fashion trend that we can thrift.
6.Colorful Vegan Leather Is A Mood
Most of us, when we think of leather we think black, sometimes brown and on rare occasions white. But generally, we're used to natural earth tones when it comes to leather jackets. Well, first of all, leather is kind of passee unless it's vintage and vegan leather has replaced it in many cases. And secondly vegan leather is going rainbow this spring. Bright colors and monochromatic looks are looking super trendy. All green leather look? Shades of yellow with a vegan leather coat? Marni, Prada, Bottega Veneta all say yes to that.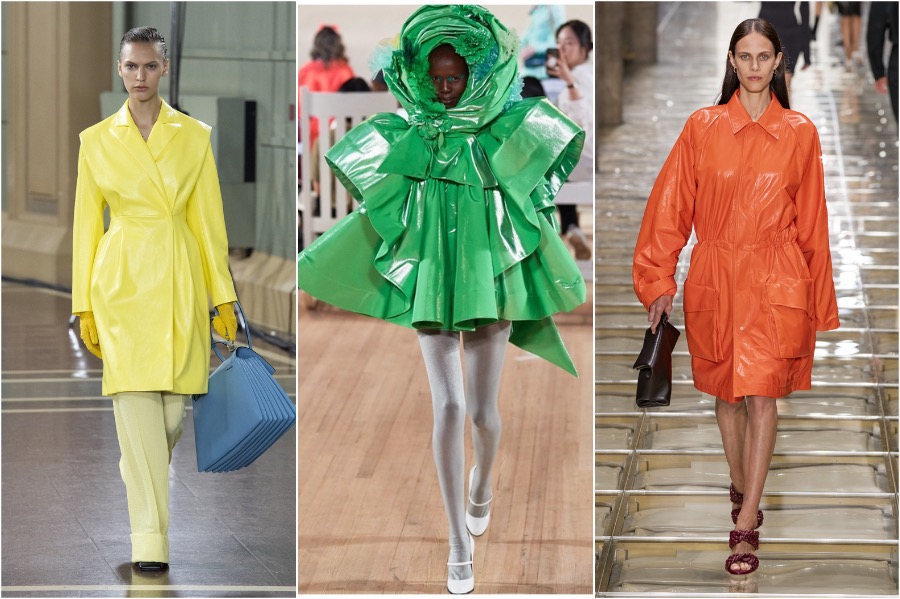 7. Love Is In The Air
Romantic silhouettes and historical fashion made modern are very trendy this spring thanks to designers like Louis Vuitton, Zimmerman and Alexander McQueen. Bows, lace, feathers, ruffles, puffy sleeves – all of these are going to be super trendy this spring. And here's a little bonus for those who like playing with their silhouettes – puffy sleeves make your shoulders look wider but in comparison, your waistline starts looking smaller. Isn't that cool?
8.Total Black And White
While total black and total white looks aren't exactly groundbreaking they are going to be super trendy this spring. Sticking to one color doesn't have to be boring at all. In fact, it can look very sleek and make you stand out. Plus it's a chance to experiment with shape and texture. Total white looks by Louis Vuitton, Alexander Wang and Emilia Wickstead were our favourites, the total black by Saint Laurent, Hermes and Chanel didn't disappoint either.